NOTE
....I messed up my linking for Pink Saturday, April 30 so please go here for the right post!
Hi, I hope the Bunny left everyone some delicious chocolate over the Easter weekend.
Thomas and I both found a chocolate bunny waiting for us!
I'm popping in to show the progress on my
Flying Heart mini quilt.
I've got everything fused down,
the mother of pearl buttons sewn on,
the entire applique outline stitched,
and
have started adding some stitching on the wings.
I've pinned on a piece of the torn edge binding
to show you what it looks like.
The binding is the same fabric as the heart.
I'm sharing my quilt with the
Quilt Story
blog.
To visit use this link to
Fabric Tuesday
.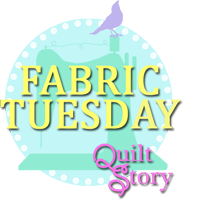 Here's
my post
about the storm that hit so many of us on Wednesday.
We did manage to get through to one of the
many people we are concerned about in Alabama.
Thanks so much for coming over for a visit!
Sweet Southern Hugs
♥
Stephanie
Queen of Dreamsz
Be as a bird perched on a frail branch that she feels bending beneath her,
still she sings away all the same, knowing she has wings.
Victor Hugo
♥
Image Copyright
Queen of Dreamsz